Hi I'm Donna Wolfe from naztazia.com Today i'm going to show you how to crochet an easy and quick sweater for a baby or child. This is also a good pattern for charity donations and crocheting for those in need. I'm collaborating with my good friend Marie from Underground Crafter who made this lovely Crosshatch stitch Baby Blanket pattern that is also good for charity donations. Be sure to check out her video on YouTube as well. As always the written pattern is on my website naztazia.com To begin, I'm using this amazingly soft and beautiful 100% organic cotton yarn that Kristin Omdahl sent me called Be So Tender. As you may know Kristin donates a portion of the sales of her yarn to Kristin Cares, a fund that helps victims of domestic violence. I'm using a size I hook. And in this case a three-month loose baby shirt to help me figure out the size. You can use another size if you wish. To begin, leave a long tail end for sewing seams later. Make a slip knot and chain 28.
Measure it along the bottom to gauge size. Use more or less chains to get it to fit, then just single crochet in the second chain from the hook, and in each stitch across. When you get to the end, chain one, turn your work, and single crochet in each stitch across. If you need help with the basics of crochet be sure to see my beginner videos. Keep making rows until you reach right under the arms. And be sure to click on the subscribe button to get notified of new videos from me each week. You can see how I've crocheted a rectangle that contains 22 rows. Now we'll need to chain 16 for the one arm – or any number of chains that fits your sample. Leave a long tail and for sewing the seams later. And then cut your yarn. Now let's connect the yarn leaving a long tail end for sewing later to this side.
Chain the same number as you did before, which is 16 plus 1 more chain. Single crochet in the second chain from the hook and in each chain across. We have just begun making the one sleeve section. Continue down these chains. Once completed, single crochet on top of the previous rectangle. Now it is time to single crochet along this other sleeve section. Once completed, chain one, turn your work and continue making rows back and forth and back and forth. As you can see I made 22 rows from my original rectangle and then another 10 rows for the top arms section. Measure against your sample to get a good size. By the way if you're on social media you can also find me on Facebook, Instagram, Pinterest, and Twitter.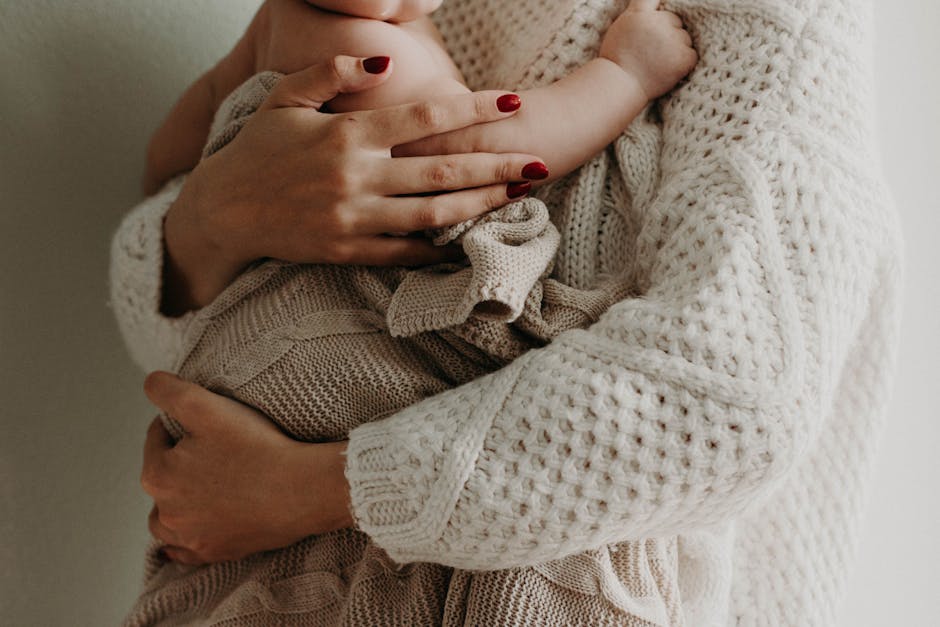 Be sure to make two of these – one for the front and one for the back. Now we'll use those long tail ends to sew along these areas. Thread your yarn needle with the nearest tail end and use whatever stitch you wish to sew these two side seams together. I just like to go back and forth like this. If you wish you can add some surface crochet using something like a heart shape which you can find on my website. I like to pin it down and then using two strands of yarn. Make a slip knot, pull the slipknot through the sweater, then just insert your hook and draw up a loop from underneath to make a chain on the surface of the sweater. Try your best to make the chain around the shape of the heart. Once completed take the remaining tail end and pull it through. Cut and weave in all ends. And here is the finished sweater. You can use any size shirt or sweater and this method to make sweaters for babies or children. Be sure to check out my website for help with other sweater sizes.
And stop by Marie's website at undergroundcrafter.com and her YouTube channel for more patterns that are great for charity donations. To view this video in other languages click on the closed caption link on YouTube and turn on subtitles. From there you can choose from over 100 different languages. I hope this video has helped you. Please subscribe to my YouTube channel. Feel free to like and comment on this video. Check out the description or the info button of this video for more information. And please visit naztazia.com for more tips and tricks on Creative Self-Sufficient Living..